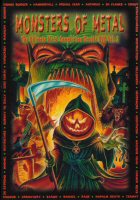 INFOS GENERALES SUR LA VIDEO
TITRE : MONSTERS OF METAL - VOLUME 2
NATURE : DVD
DATE DE SORTIE : Début 2004
LABEL : Nuclear Blast
COMPOSITION :
DISQUE 1 :
GROUPE / TITRE / ALBUM D'ORIGINE / ANNEE / LABEL (NB = NUCLEAR BLAST) :
1. DIMMU BORGIR : Progenies Of The Great Apocalypse (de "Death Cult Armageddon", 2003 - NB)
2. EDGUY :
King Of Fools (de "Hellfire Club", 2004 - NB)
3. MNEMIC : Liquid (de "Mechanical Spin Phenomena", 2003 - NB)
4. DEATHSTARS : Syndrome (de "Synthetic Generation", 2003 - NB)
5. IN FLAMES : The Quiet Place (de "Soundtrack To Your Escape", 2004 - NB)
6. PRIMAL FEAR : Metal Is Forever (de "Devil's Ground", 2004 - NB)
7. RAUNCHY :
Watch Out
(de "Confusion Bay", 2004 - NB)
8. RE:AKTOR : Damage Zone
(de "Zero Order", 2003 - NB)
9. CHILDREN OF BODOM : Sixpounder
(de "Hate Crew Deathroll", 2003 - Spinefarm)
10. KATAKLYSM : As I Slither
(de "Serenity In Fire", 2004 - NB)
11. SUBWAY TO SALLY : Unsterblich
(de "Engelskrieger", 2003 - Metal Blade)
12. THERION : To Mega Therion
(de "Theli", 1996 - NB)
13. HAMMERFALL : Always Will Be
(de "Renegade", 2000 - NB)
14. NEVERMORE : Enemies Of Reality
(de "Enemies Of Reality", 2003 - Century Media)
15. NIGHTWISH : Over The Hills And Far Away
(de "Over The Hills And Far Away", 2001 - Spinefarm)
16. IMMORTAL : Grim And Frostbitten Kingdoms
(de "Battles In The North", 1995 - Osmose)
17. ENTOMBED : Wolverine Blues (de "Wolverine Blues", 1993 - Earache)
18. MACHINE HEAD : Imperium
(de "Through The Ashes Of Empire", 2003 - Roadrunner)
19. FIREBALL MINISTRY : Flatline
(de "The Second Great Awakening", 2003 - NB)
20. TIAMAT :
Cain
(de "Prey", 2003 - Century Media)
21. RHAPSODY : Rain Of A Thousand Flames
(de "Rain Of A Thousand Flames", 2001 - LMP)
22. ICED EARTH : The Reckoning
(de "The Glorious Burden", 2004 - SPV)
23. NAPALM DEATH : Mass Appeal Madness (de "Mass Appeal Madness", 1991 - Earache)
24. THUNDERSTONE : Until We Touch The Burning Sun
(de "The Burning", 2004 - NB)
25. BENEDICTION : The Grotesque
(de "The Grotesque", 1994 - NB)
DISQUE 2 :
GROUPE / TITRE / ALBUM D'ORIGINE / ANNEE / LABEL (NB = NUCLEAR BLAST) :
1. CREMATORY : Greed
(de "Revolution", 2004 - NB)
2. SOILWORK : Light The Torch
(de "Figure Number Five", 2003 - NB)
3. ANTHRAX :
Taking The Music Back
(de "We've Come For You All", 2003 - NB)
4. FARMER BOYS : Stay Like This Forever
(de "The Other Side", 2004 - NB)
5. EXODUS :
War Is My Shepherd
(de "Tempo Of The Damned", 2004 - NB)
6. SAVATAGE : Gutter Ballet
(de "Gutter Ballet", 1989 - Atlantic)
7. IN EXTREMO : Küss Mich
(de "Küss Mich", 2003 - Motor Music)
8. ORPHANAGE : At The Mountains Of Madness
(de "At The Mountains Of Madness", 1997 - DSFA)
9. SINNER : Used To The Truth
(de "Judgment Day", 2000 - NB)
10. HELLOWEEN : If I Could Fly
(de "The Dark Ride", 2000 - NB)
11. DESTRUCTION : Desecrators (Of The New Age)
(de "Metal Discharge", 2003 - NB)
12. STRATOVARIUS : I Walk To My Own Song
(de "Elements Part 2", 2003 - NB)
13. GRAVEWORM : Awaiting The Shining
(de "Underneath The Crescent Moon", 1998 - Serenades)
14. SAMAEL :
Infra Galaxia
(de "Eternal", 1999 - Century Media)
15. SOULFLY : Seek'n'Strike
(de "3", 2002 - Roadrunner)
16. ARCH ENEMY : We Will Rise
(de "Anthems Of Rebellion", 2003 - Century Media)
17. SAXON :
Killing Ground
(de "Killing Ground", 2001 - SPV)
18. HYPOCRISY : Roswell 47
(de "Abducted", 1996 - NB)
19. BOLT THROWER : Cenotaph
(de "War Master", 1991 - Earache)
20. MESHUGGAH : Transfixion
(de "Destroy Erase Improve", 1995 - NB)
21. DARKANE : Chaos Vs. Order
(de "Expanding Senses", 2002 - NB)
22. MOTÖRHEAD : God Save The Queen
(de "We Are Motörhead", 2000 - SPV)
23. RAGE :
Down
(de "Unity", 2002 - SPV)
24. DARK TRANQUILLITY : Monochromatic Stains
(de "Damage Done", 2002 - Century Media)
25. DISBELIEF : To The Sky
(de "Spreading The Rage", 2003 - Massacre)
POCHETTE : Necrolord
MORCEAU DE NAPALM DEATH : Extrait du mini album "Mass Appeal Madness"
INFORMATIONS DIVERSES :
Nuclear Blast est un label allemand qui a débuté ses activités en 1989 avec des formations telles que Righteous Pigs, Benediction, Disharmonic Orchestra, Rostok Vampires, Defecation, Pungent Stench, Master ou Abomination... Spécialisés dans le metal extrême, le label s'est progressivement diversifié - sans pour autant perdre de son intégrité - et il s'est peu à peu transformé en un empire ! A l'heure actuelle, c'est incontestablement le meilleur label européen de metal et, au niveau mondial, le meilleur label indépendant avec Relapse. Voyez un peu tous les groupes qui sont signés là-bas : Dimmu Borgir, Lock Up, Defecation, Dissection, Sonata Artica, Kataklysm, Amorphis, In Flames, Hammerfall, Meshuggah, Primal Fear... et tous les groupes qu'ils ont récupéré ces dernières années : Cathedral, Exodus, Death Angel, Helloween, Destruction, Anthrax, Agnostic Front, Skyclad, Manowar, Grave Digger, Malevolent Creation... sans compter les jeunes groupes prometteurs qui émergent de toute part : Soilwork, Mnemic, Misery Index, Raunchy... Ils ont aussi une distro très active ; leur catalogue trimestriel en couleur d'une centaine de pages est très attrayant, il y a souvent des interviews de groupe, des annonces de concerts et des chroniques d'albums. Malheureusement, tout est en allemand donc si vous ne le parlez pas (comme c'est mon cas, vous ne pouvez que baver !). Bien entendu, on peut commander des CD's (les prix sont raisonnables et le choix est très vaste) mais aussi des DVD's et des objets collectors (tels que des singles, des picture discs, des coffrets spéciaux...) et le merchandising habituel (T-shirts, sweats, patches, badges, objets médiévaux...).
Le premier volume de "Monsters Of Metal", sorti un an auparavant, avait très bien marché : il s'en était vendu 15 000 copies rien qu'en Allemagne et il s'était même classé en huitième position dans les charts de DVD (les teutons assûrent !). Il était donc logique que Nuclear Blast remette le couvert. Et bien, cette fois encore, Markus Staiger, le fondateur et boss du label, a mis sur le
marché un produit de qualité. En tout, il y a 4 heures de vidéos sur ces 2 disques avec des clips, des interviews et des plans en concert servis par une multitude de groupes, beaucoup d'entre eux étant réputés au sein du mouvement metal. En plus, le panorama musical est vaste, on explore tous les styles de metal : black, heavy, speed, néo, power, thrash, gothique, death, grind, stoner, metal symphonique ou folklorique... Et puis ça permet aussi de porter l'attention sur des formations moins connues telles que : Raunchy, Fireball Ministry, Farmer Boys ou Disbelief. Bien sûr, la plupart des groupes présents sur cette compile sont sur Nuclear Blast. D'ailleurs, toutes les vidéos des artistes signés sur une autre maison de disque datent un peu (j'imagine qu'ils n'ont sûrement pas pu obtenir les droits des vidéos récentes).
Il y a une partie intitulée "Dr Blast Show" plutôt amusante (le docteur Blast est la mascotte du label et vous pouvez voir sa sale face ci-contre) et une galerie de photos, ainsi que tout un tas de petits bonus, des reportages tournés en studio pour Edguy, Orphanage et In Flames, des pré-écoutes de certains disques sur le point de sortir et une partie live avec des plans excellents de Dew-Scented, Mystic Prophecy, Misery Index, Death Angel et Exodus. Le livret est très fourni et l'ensemble était vendu à un prix raisonnable donc on peut dire qu'il vaut le coup. Le label allemand prévoyait déjà de sortir un troisième volume fin 2004 (c'est ce qui est indiqué sur la jaquette du volume 2) et allait enchaîner avec une autre compile DVD exclusivement focalisée sur le death metal qui est détaillée sur cette page.
Cliquez sur le logo ci-dessous pour atterrir sur le site de Nuclear Blast :
Nuclear Blast rules !
---